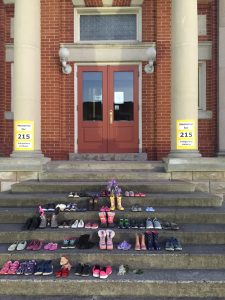 Across Canada, people are expressing their horror and outrage at the discovery of 215 unidentified Indigenous children buried at a residential school in Kamloops. This heartbreaking news comes just before the start of June, which is Indigenous History Month.
Hanover Public Library and The Town of Hanover wish to support the nationwide movement to mourn these children through placing shoes on the steps of our Civic Centre as a memorial. Anyone wishing to contribute to this expression of grief may place shoes to honour these 215 and all Indigenous children who lost their lives when they should have been safe and cared for. And also to acknowledge the continuing pain of their families and all survivors of residential school.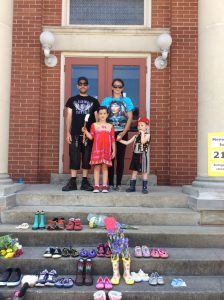 This visible image honouring the young victims lost is intended to raise awareness of these atrocities, act as a focal point for mourning all the vanished children, and as a promise to do better in our future dealings with First Nations and all Indigenous people.
See more information here:
https://www.ctvnews.ca/canada/tiny-shoes-and-lowered-flags-memorials-spread-for-215-first-nations-children-found-buried-in-mass-grave-in-b-c-1.5448699
https://nationtalk.ca/story/national-chief-demands-action-for-missing-first-nations-children-and-grave-sites
---
Library books about Indigenous Matters including Residential School: https://koha.hanoverlibrary.ca/cgi-bin/koha/opac-shelves.pl?op=view&shelfnumber=345
---
Resources Available
Indian Residential Schools Resolution Health Support Program 24/7 support to anyone who was directly or indirectly affected by residential schools, 60's scoop, or the day schools 1-866-925-4419
Talk 4 Healing – culturally grounded, fully confidential helpline for Indigenous women available in 14 languages all across Ontario 1-855-554-HEAL
Hope for Wellness – immediate help to all Indigenous peoples across Canada 24/7 1-855-242-3310 or online chat at hopeforwellness.ca
CMHA Crisis Response Line (Grey-Bruce): 1-877-470-5200
---