Computer Training at the Library
We offer a technology training program called Computer Buddies program. Computer Buddies pairs adults who need help using new technology with volunteers who can share their skills. The Buddies can offer help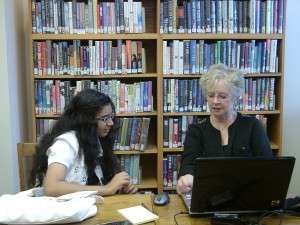 with devices such as tablets, laptops, smart phones, or using websites like Facebook, Twitter or Kijiji.
If you are interested in learning the basics of computer use, please call or drop by the library and get signed up.  These services are free, although donations to the library are always welcome.
If you're keen to teach computer skills, please let us know. We need lots of volunteers, and for high school students, this is a great way to get your volunteer hours. Call the library at (519) 364-1420 or e-mail us.