---
Programs and Events
What's happening at the Hanover Public Library?
We have some great programs coming soon! We've got in-person programs for adults and kids, as well as some virtual programs.
New programs are being added regularly, and program updates will also appear on this page.
Stay tuned!
Skip to:
---
Adult Programs
Poetry Workshop
Did you know April is National Poetry Month? Let us help you discover the world of poetry! Local poet Dianne Joyce will be hosting a poetry writing workshop. Writers of all levels are invited to join this supportive and engaging session. Space is limited, so you must register at the library.

All poets, whether participating in the workshop or not, are invited to participate in our Poetry Open Mic Night on April 26th to celebrate National Poetry Month. Save the date! Details about our April programs will be announced.
Where? Saugeen Room
When? Thursday, March 23rd @ 6:30 pm
Cost? $10
Switch to Libby
Still using the OverDrive app for e-books and digital audiobooks? You'll need to switch over to the Libby app instead. Libby offers the same great collection as OverDrive, but includes even more content. In this easy-to-use app, you can:
choose from thousands of e-books and audiobooks
download books for reading offline
access over 4,000 magazines with no waitlists
access our video streaming channels, The Great Courses and Kanopy PLUS
change the playback speed of audiobooks
change font type and size
and so much more!
We're offering an information session to answer all your questions, and library staff will also help walk you through setting up and using the Libby app. Mark your calendars: this is one session you won't want to miss! Register to secure your spot.
When? Friday, March 31st at 2:00 pm
Where? Saugeen Room
Cost? Free
Tech Whiz: Phishing
Do you have questions about online security? Our tech helper is here to lend a hand! Join William for a group information session about online security for families. There will be a video about online security, and a thoughtful discussion about how to stay safe online. Topics include phishing, scams, and how to protect yourself. Register at the library to secure your spot!
Where? Saugeen Room
When? Thursday, April 6th @ 2:00 pm
Cost? Free
Computer Buddies
Do you need help learning how to use a computer or tablet? There's a free library service for that! We offer individual lessons with our tech helper. Learn how to use most apple and android phones, tablets and laptops and specific apps and programs, like social media. He can also help you with trouble-shooting, printing, finding forms, and more. Call the library to get started.
Where? @ the Library
When? Regular Hours:
Tuesdays 10:00 am – 1:00 pm
Thursdays 12:30 pm – 3:30 pm
Fridays 12:00 pm – 3:00 pm
Mahjongg
Drop in to play this exciting and addictive Chinese tile game!
Players of all levels are welcome to join.
In the library, every Thursday at 1:00 pm.
Writer's Group
Are you interested in writing? The Hanover Public Library hosts a Writer's Group at 1:30 pm on the first Monday of every month in the Local History room. This group is designed to get your creative juices flowing! The group practices writing using prompts, shares stories, and can even provide feedback on your writing if you're interested. Writers of all levels are welcome, whether you're just starting out or have been writing for years. The group also hosts the occasional professional writer who shares their professional expertise with members. Call Val at 519-364-4360 to sign up.
Where? @ the Library in the Local History Room
When? First Monday of every month at 1:30 pm
---
Kid's Programs
After School Art
Don't forget to register your kids ages 6 and up for our March After School Art!
Join Stephanie on Thursday, March 30th from 4:00-5:00pm in the Community Hall for some crafting fun! There are some great crafts planned for this month.
The program cost is $2 per child for the cost of all crafting materials.
---
Virtual Programs
This exciting program will provide insight for viewing beautiful birds in the cold season, whether you enjoy bird watching along hiking trails or in your own backyard. It will focus on many of the songbirds that visit your feeders, but also some of the rarities that can sometimes stay around after the breeding season. This eye-popping presentation on backyard songbirds, waterfowl and birds of prey will set you off on a lifelong journey of looking for all your favourite species.
View the program on our YouTube Channel.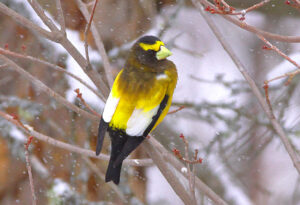 Assistant Librarian Norma gives video book reviews to some of her favourite books!
View the recordings on YouTube here.
Watch Storytime videos created by our Children and Youth Services Librarian, Stephanie, and our summer students!
View the recordings on our YouTube channel.
Watch tutorials on how to make themed crafts. These videos accompany our weekly craft bags.
View the recordings on our YouTube channel.
---
Skip to: