Support Your Library : donation and volunteer opportunities
Every gift makes a difference.
Public Libraries have the power to change lives and you can help us. Supporting your library can happen in a variety of ways. You can help us with fundraising, sponsorship, or volunteer time!
The Hanover Public Library has played a key role in our community since 1906. We connect people to a world of information and learning. By making a donation today you can help us create a lasting legacy. You can direct your gift to benefit our collections, programs, technology needs, furnishings, or wherever the need is greatest. Your gift will help the Library serve the community above and beyond what tax-based funding provides.
Monetary Donations

The Hanover Public Library is a registered charity. Our Charitable Registration number is 71858-2273-RR0001. Every gift over $10.00 will receive a charitable tax receipt. Donations can be acknowledged two ways: gifts of $100-$499 will have their name added to the list of significant donors binder in the library. Gifts of $500 and above will be recognized on the donor recognition board in the library corridor. Your donation stays in your community to benefit individuals and families. Your support helps ensure the Library's long-term financial stability. Donate in person, online, or by mail at any time.
Hanover Public Library
Attn: Chief Librarian
451 10th Avenue
Hanover, ON
N4N 2P1
Donate Online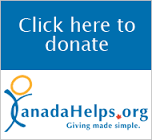 Donate online using CanadaHelps.org, which enables us to accept secure online donations. Credit Card donations are accepted, and you will receive a tax receipt by email. You may also donate Securities and Mutual Funds this way.
You may also donate by Interac e-transfer direct to our library. Please Contact Us for how to donate by Interac online.
In Memoriam Donations
Honour a life well lived by giving an In Memoriam donation. Increasingly, in lieu of flowers, many people prefer to make a donation to a not-for-profit organization as a tangible and permanent way to pay tribute. An In Memoriam donation to the Hanover Public Library is a meaningful way to pay tribute to the memory of someone who cared about their community.
Bequests and Planned Giving
Bequests and planned gifts are an excellent way to leave a legacy to support your Library. They will help us to provide quality programs for future generations. Your contribution will touch lives for many years to come.
There are a variety of ways to make a planned gift to the Library. The simplest one is to name The Hanover Public Library as a beneficiary in your will or living trust. If you would like to discuss a gift intention, Hanover Library staff would be happy to review your needs and intentions.
Adopt-a-Book
An easy way to support your library and get something nice for yourself. Choose a title from our list of upcoming book releases. We buy the book for the library and when the book arrives you donate the cost to the library. You get a tax receipt for the full amount of your donation and you will be the first borrower to read the book. Both adult and children's collections can benefit from material adoption. Your generosity can be acknowledged, if you wish, by having a bookplate in the book so that everyone knows of your gift.
Donate Books & Materials
Donated items may be added to our collection or sold at the Annual Book sale. All money raised helps fund our Library programs and services. We accept used books, DVDs, puzzles, games, or CDs to the sale. Please review the pdf document Book Sale Donation Guideline for more information. Donations may be dropped off at any time, however we ask that if you have a large quantity to make arrangements in advance. Please contact the Library at 519.364.1420 or hanpub@hanover.ca for information about donating large amounts of materials.