Library News articles from The Hanover Post
---
January 26th, 2022
Homebound Delivery Service
If you're a Hanover resident who is interested in books but can't make it to the library,
you might be eligible for our homebound delivery service. What's this all about? You
might be eligible for this free service if you live in town and are:
physically disabled or have mobility issues
elderly
suffering from a long-term or short-term illness
confined to your home due to an accident or injury
living in a retirement community in town
If this sounds like you, or maybe even a family member, contact us today! Library staff
will make arrangements to sign you up for a library card, and we will ask about your
reading preferences so we can pick out books you might enjoy. You can also request
specific books. We have audiobooks, regular print and large print books available to
everyone. We also have DAISY books and streaming devices available to anyone with
print or visual disabilities.
Overdue fines are waived for people who are eligible for our delivery service, but
patrons are still responsible for replacement costs for library items that are lost or
damaged. To sign up for this wonderful service, give us a call at 519-364-1420.
Borrow the Internet
Have you heard that you can borrow the internet from the library? You heard right! We
have internet hotspots available to borrow. Wow! Learn more at hanoverlibrary.ca under
Library Services>Borrow the Internet. You can also give us a call or drop by for more
info, or to place a hold on one of our devices. You can borrow one of our easy-to-use
internet hubs for free with your library card for two weeks, and you can use it at home or
on the go!
New Books
As always, the Hanover Public Library is happy to bring you more new books. Come by
to check out our new fiction, or visit hanoverlibrary.ca and choose "New Fiction" from
the home page. The latest additions to our adult fiction collection are:
The Midwife of Auschwitz by Anna Stuart
The Inside Edge by Ashlyn Kane
The Breaker by Nick Petrie
How to Sell a Haunted House by Grady Hendrix
Two Steps Onward by Graeme Simsion and Anne Buist
The Mitford Affair by Marie Benedict
The Backup Plan by Jill Shalvis
Everyone in My Family Has Killed Someone by Benjamin Stevenson
Written in the Stars by Alexandria Bellefleur
The Royal Game by Anne O'Brien
Board Meeting
We would like to remind the community that Library Board Meetings are open to the
public. Board meetings are held at 6:30 pm on the 3rd Wednesday of every month. This
month's meeting will be held on February 15th at 6:30 pm. Use our contact page or email
the CEO/Chief Librarian before the meeting date if you plan to attend, or to request an
electronic copy of the meeting agenda. To learn more or to access past meeting
minutes, visit our website and choose About Us.
---
January 19th, 2022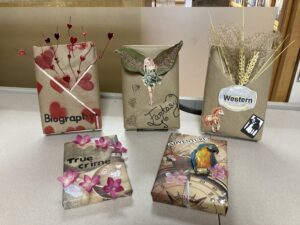 Blind Date with a Book
We've got an exciting display for February coming soon! Come check out Blind Date
with a Book. What's this all about? Come by to choose a type of book (mystery,
romance, etc.) from our display, and library staff will match you up with a carefully
selected book from that category. Simply pick up a decorated book from our display and
bring it to the front desk with your library card, or let staff know that you would like a
certain type of book – we will take care of the rest! Find a new favourite author in your
favourite genre, or discover a new category of book – the choice is yours.
Join the Writer's Group
Are you interested in writing? The Hanover Public Library hosts a Writer's Group at 1:30
pm on the first Monday of every month in the Local History room. This group is
designed to get your creative juices flowing! The group practices writing using prompts,
shares stories, and can even provide feedback on your writing if you're
interested. Writers of all levels are welcome, whether you're just starting out or have
been writing for years. The group also hosts the occasional professional writer who
shares their professional expertise with members. Call Val at 519-364-4360 to sign up.
New Non-Fiction Books
This just in: we've received our first shipments of non-fiction adult books for 2023! Come
by to see what's recently arrived, or visit hanoverlibrary.ca and choose "New Non-
Fiction" from the home page. The latest additions are:
Non-Fiction
Attention Span: A Groundbreaking Way to Restore Balance, Happiness and Productivity
by Gloria Mark
Heartbroken: Field Notes on a Constant Condition by Laura Pratt
The Good Life: Lessons from the World's Longest Scientific Study of Happiness by
Robert Waldinger MD and Marc Schulz PhD
Abyss: The Cuban Missile Crisis, 1962 by Max Hastings
We Thought We Knew You by M. William Phelps
The Swedish Art of Aging Exuberantly: Life Wisdom from Someone who Will (Probably)
Die Before You by Margarita Magnusson
Biographies:
Spare by Prince Harry, Duke of Sussex
A Conspiracy of Chickens: A Memoir by David Waltner-Toews
The King: the Life of Charles III Christopher P. Andersen
Nothing Will be Different: a Memoir by Tara McGowan-Ross
Surrender: 40 Sings, One Story by Bono
New DVDs
We've received our first shipments of new adult DVDs for 2023! Come by to see what's
new, or visit hanoverlibrary.ca and choose "New DVDs" from the home page. The latest
additions are:
Biography
Moonage Daydream, all about David Bowie
Fiction Movies:
Emily the Criminal
The Killing Fields
Fiction TV Shows:
Miss Scarlet & The Duke season 2
1883: a Yellowstone Origin Story
Home Fires season 1
Outlander season 6
The Good Fight season 1
Agatha Raisin season 3
---
January 12th, 2022
New Books
This just in: we've received our first shipments of new adult books for 2023! Come by to check out our new fiction, or visit hanoverlibrary.ca and choose "New Fiction" from the home page. The latest additions to our adult fiction collection are:
Without a Trace by Danielle Steel
The House of Wolves by James Patterson and Mike Lupica
You Must Remember This by Kat Rosenfield
All the Dangerous Things by Stacy Willingham
The Villa by Rachel Hawkins
Love, Clancy : A Diary of a Good Dog by W. Bruce Cameron
Just the Nicest Couple by Mary Kubica
Age of Vice by Deepti Kapoor
Hard to Break by Michael Lewidge
Code 6 by James Grippando
Parks Passes
This just in: we've received Ontario Parks Passes for 2023! The Hanover Public Library has Ontario Parks Passes available to borrow for free for one week with your library card. These passes provide full-car entry to all Ontario Provincial Parks. Place your hold online or by phone, or drop in to see if one is available. You can view the hours of operation for each of the parks online, and you can access a list of parks that are currently open for the season. You can also pre-book your parks visit up to 5 days in advance. For more information, visit our website under Library Services > Fun & Fitness.
1000 Books Before Kindergarten
The start of a new year is a great time to get your kids started with the "1000 Books Before Kindergarten" program. Drop by the library to sign up! There will be a reward for every 100 books your child reads, so come to the library after finishing each page. There will also be a book prize and certificate upon completing the program. This program helps young children develop early literacy skills before they start school, giving them a leg up on their reading. Contact the library for more information.
Scientists in Schools Virtual Programme
We've teamed up with Scientists in Schools once again to offer another virtual science programme, "Eww… That Science is Gross!" Join us for a gross but fun-filled adventure! Discover the science behind things that make you say… ewww! Join us on February 3rd at 10am from the comfort of your own home. This free workshop is available to children 4-12, and registration at the library is required. Science kits will be available for pickup at the library the week before the programme, and information on how to attend will be emailed to all participants.
---
January 5th, 2022
Announcement: Children's Materials are Now Fine-Free
The Hanover Public Library is pleased to announce that we will no longer be charging overdue fines for children's items returned past their due dates. This includes all books and movies that are part of our children's collection. You heard that right!
To help families introduce children to reading, which we know sets them up for success later in life, our Library Board has decided to stop charging fines on all children's items for 2023. Awesome!
We will continue to charge fines on materials for adults and teens to help make sure items are returned promptly so we can continue to serve everyone efficiently.
After School Art
Mark your calendars: After School Art is back! Join us on Thursday, January 26th at 4 pm in the Community Hall for an hour of crafting. Come to the library to register your children ages 6+ for the programme. The cost is $2 per child.
Book Sale Volunteers
We need your help! We are looking for 2 or 3 enthusiastic year-round volunteers for our book sale. Someone with knowledge of genres would fit in perfectly with a core group of volunteers who sort, clean and prep for the book sale all year. Ability to lift small boxes full of books is needed. If you are interested please reach out to Carolyn at the library. Our book sale has become such a large success because of our wonderful team of volunteers, and we would love to have you too.
Book Sale Donations
We are officially accepting donations for our 2023 Book Sale! We are looking for donations of gently used books, movies and games for all ages to help stock our book sale. Puzzles are also very popular at our book sale, so if you have puzzles at home that you're done with please consider donating them. If you're looking to donate items, please view our Donation Guidelines, available in the library or on our website Book Sale page. Donations can be brought to the front desk anytime during our open hours.
New Library Board
Hanover Council has appointed the library board for the new term. The board members for the 2023-2026 term are:
Carol Hudson – Council Appointee
Brenda Booth
Laurel Douma
Edwin Haas
Ruth Linnen
Kathi Maskell
Jeanette Wilken
Thank you to all the trustees for their enthusiasm and support of our library service by volunteering to serve on our board this term! Library board meetings are open to the public. Check out the "About Us" page on our website for specific meeting dates.
---