Staff Picks from HPL Newsletter #5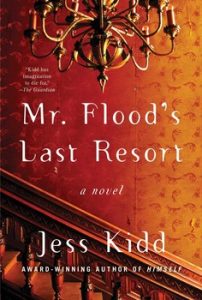 Mr. Flood's Last Resort
My favourite kind of book to read just for fun is a genre known as 'magic realism'. This is a style of fiction that paints a realistic view of the modern world while also adding magical elements. Irish author Jess Kidd is a master of the style, and I recently enjoyed her second novel, entitled "Mr. Flood's Last Resort". It has all the elements of a great story: a spooky setting in an old London mansion, memorable characters, a suspenseful plot, and just a touch of whimsy that makes it a very special story.
Maud Drennan is a dedicated caregiver whose sunny disposition masks a deep sadness. A tragic childhood event left her haunted, in the company of a cast of prattling saints who pop in and out of her life like tourists. Other than visiting her agoraphobic neighbor, Maud keeps to herself, finding solace in her work and in her humble existence–until she meets Mr. Flood.
Cathal Flood is a menace by all accounts. The lone occupant of a Gothic mansion crawling with feral cats, he has been waging war against his son's attempts to put him into an old-age home and sent his last caretaker running for the madhouse. But Maud is this impossible man's last chance: if she can help him get the house in order, he just might be able to stay. So the unlikely pair begins to cooperate, bonding over their shared love of Irish folktales and mutual dislike of Mr. Flood's overbearing son.
Still, shadows are growing in the cluttered corners of the mansion, hinting at buried family secrets, and reminding Maud that she doesn't really know this man at all. When the forgotten case of a missing schoolgirl comes to light, she starts poking around, and a dangerous search for answers begins.
Packed with eccentric charms, endearing characters, and a whole lot of heart, Mr. Flood's Last Resort is a mesmerizing tale that examines the space between sin and sainthood, reminding us that often the most meaningful forgiveness that we can offer is to ourselves.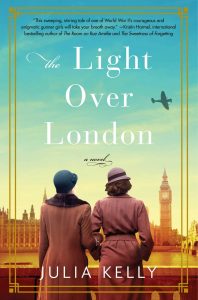 The Light Over London
There's nothing like spending a winter day lazing about on the couch with a good book. I recently spent a snowy Sunday reading a new historical fiction novel, entitled "The Light Over London" by American author Julia Kelly. It's one of those lovely novels that moves back and forth in time, from the Second World War to the present day.
Cara Hargraves has recently moved to a small town in England from London and is working for an antiques dealer. The story begins when she is clearing out an estate. She pries open an old tin that holds the relics of a lost relationship: among the treasures, a World War II-era diary and a photograph of a young woman in uniform. Eager to find the author of the hauntingly beautiful, unfinished diary, Cara begins some historical detection work, hoping to keep her mind off her own sorrows.
In 1941, nineteen-year-old Louise Keene's life had been decided for her—she'll wait at home in her Cornish village until her wealthy suitor returns from war to ask for her hand. Her own desire for a larger life and an education are ignored by her difficult mother. But when Louise unexpectedly meets Paul Bolton, a dashing RAF pilot stationed at a local base, everything changes. Then Paul's unit is deployed without warning.
Desperate for escape from her stifling life, Louise joins the women's branch of the British Army as a Gunner Girl. These were squadrons of women and men, where the women spotted enemy aircraft, and did the complex math to figure out the best firing trajectory. The men then loaded and fired the anti-aircraft gun, since women were not allowed to do so. As bombs fall on London, she and the other Gunner Girls work hard to be exact in their calculations, and quick in their identification of enemy planes. The only thing that gets Louise through those dark, bullet-filled nights is knowing she and Paul will be together when the war is over. But when a bundle of her letters to him are returned unanswered, she learns that wartime romance can have a much darker side.
Illuminating the story of these two women separated by generations and experience, Julia Kelly transports us to World War II London through forgotten antique treasures, remembered triumphs, and fierce family ties. It's a great read, and time well spent!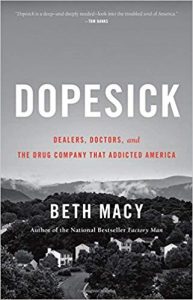 Dopesick : Dealers, Doctors and the Drug Company that Addicted America
We are hearing a great deal in the news in the last couple of years about the opioid crisis. Drugs like Oxycontin and Fentanyl are causing a huge number of deaths and damaged lives. How did this epidemic start? What needs to be done to combat it?
American author and journalist Beth Macy's new book is entitled "Dopesick: Dealers, Doctors, and the Drug Company that Addicted America". She says it is the hardest book she's ever had to write, and doing the research was just heartbreaking, but she knew it was vitally important that this story be told.
This book illuminates the persistent and often conflicting gaps in the treatment and criminal-justice landscapes while shining a hopeful light on the heroes battling the worst drug epidemic in American history. Through unsparing yet deeply human portraits, Macy hones in on the families and first-responders. Dopesick is threaded through with stories of loss and bewilderment: sad stories told by grieving parents, angry stories told by activists, and stoical stories told by police officers who have witnessed entire communities laid waste by addiction. What is happening in America is also happening here in Canada. About 3000 people died in 2016 from opioid overdoses in this country.
Many of the people who are suffering from addiction were prescribed opioids for chronic or post-operative pain. Doctors were given financial incentives to prescribe the drugs by the pharmaceutical company that made millions. As usual when people are victimized, you need only to follow the money to discover where the responsibility lies.
This book advocates ground-level activism in the face of corporate power and celebrates those who tirelessly campaign for reform, often fired by the loss of a loved one. Dopesick may make you weep; it will almost certainly make you angry. If you want to truly understand this terrible epidemic, I highly recommend this book.
Staff Picks from HPL Newsletter #4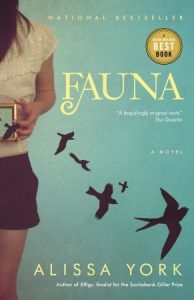 Fauna by Alyssa York
Nestled in the urban density of downtown Toronto is the Don Valley, where the Don River meanders through 38 kilometers of city and suburbs. The Valley has stretches that are quite wild and forested, despite the multi-lane highways and the apartment buildings surrounding it. These areas are habitat for foxes, raccoons, coyotes, hawks, and other wildlife, as well as offering a quiet place for homeless people to pitch their tents. The Don Valley is the setting for Toronto author Alyssa York's wonderful novel, entitled Fauna.
The book tells the story of six very different characters who are brought together around the wildlife in the Valley. When Edal Jones can't cope with the casual cruelty she encounters in her job as a federal wildlife officer, she finds herself drawn to a beacon of solace nestled in the valley under the unlikely banner of an auto-wrecker's yard. Guy Howell, the handsome proprietor, offers sanctuary to animals and people alike: a half-starved hawk and a brood of orphaned raccoon kits, a young soldier named Stephen whose spirit failed him during his first tour of duty, and Lily, a homeless teenage runaway whose constant companion is her massive black dog Billy. Guy is well versed in the delicate workings of damaged beings, and he might just stand a chance at mending Edal's heart.
But before love can bloom, the little community must come to terms with a different breed of lost soul – a young man whose brutal backwoods childhood is catching up with him, causing him to persecute the creatures that call the valley home.
The story of these characters' intersecting lives is gritty, but also full of tenderness – the characters for each other, and for the animals in their care. The narrative is strengthened by the occasional voices of wild creatures in telling their stories as well, adding depth to the portrait of the strange, wild but urban place that is the Don Valley. I love a book that tells many stories well, and Fauna certainly does that.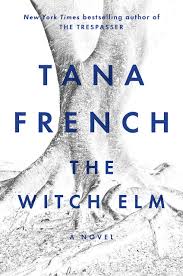 The Witch Elm by Tana French
Lately, we have seen a trend in fiction of the Unreliable Narrator. It began with the wildly popular "The Girl on the Train" by Paula Hawkins, and it has spread like wildfire, so that it seems like every other novel that is being published is a novel with an unreliable narrator – someone who tells a story that, at some point, the reader discovers cannot be trusted, for whatever reason, to tell the truth. Irish author Tana French has joined that trend with her new book, "The Witch Elm", but with some interesting twists.
Toby is a charming young man who has never really considered the role of luck in his life, until now. He's always had an easy go of things, with a loving family, a good job, and an adoring girlfriend. All that good fortune has made him somewhat callous and smug – not the most likeable character ever. But Toby's luck has changed overnight. First, he gets into serious trouble with his boss, then his home is broken into, and he is beaten within an inch of his life, sustaining head trauma that damages his memory and sucks away the easy charm that has always worked in his favour. His damaged brain is what makes him into an unreliable narrator.
As Toby is struggling to adjust to his new normal, he gets word that his uncle has been diagnosed with terminal brain cancer. To help in the care of his uncle and to feel useful in his now-limited way, Toby and his girlfriend move in with him in the family's ancestral home, Ivy House. Ivy House was where Toby and his cousins spent their summer vacations for many years. But the discovery of a human skull by one of his cousin's children leads Toby to examine his life and question his family and friends and history. Toby is suddenly quite vulnerable, with his memory lapses making it difficult for him to alibi himself. It looks like Toby's luck may have finally run completely out – can he rely on his own memories anymore?
This is a book that begins with a somewhat stately pace, requiring some patience, but if you stick with it, it builds up to an explosive ending – well worth the effort.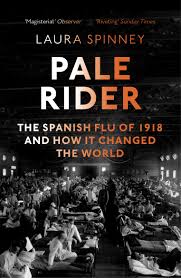 Pale Rider : The Spanish Flu of 1918 and how it changed with world
When we look back at human history, we can see important turning points: times where a certain set of events or circumstances changed the world. Large scale conflicts and environmental disasters often become turning points. Epidemics can also mark a point of change, and this is the subject of a new book by British science journalist Laura Spinney, entitled "Pale Rider: the Spanish Flu of 1918 and how it changed the world". Spinney narrates a catastrophe that changed humanity for decades to come, and continues to make itself felt today. In the process she demonstrates that the Spanish flu was as significant – if not more so – as two world wars in shaping the modern world; in disrupting, and often permanently altering, global politics, race relations, family structures, medicine, religion, and the arts.
Although we now tend to think of the Spanish flu as a mere footnote to the devastation of the First World War, the flu is estimated to have killed almost 100 million people worldwide. The Times of London reported it as "a plague unmatched since the Black Death". Colonial India, robbed of its doctors by the European war, became the worst affected. In America, it struck first in Kansas, where a young army mess cook fell sick one morning in early March. By lunchtime, a hundred similar cases were reported at the base. By the end of that week, a makeshift hospital for victims had filled an aircraft hangar. Chicago was reported to be "all out of sheets" after an unprecedented call for shrouds. In Philadelphia, almost 5,000 citizens died of flu in a week.
Telling the story from the point of view of those who lived through it, she shows how this devastating natural experiment put both the ingenuity and the vulnerability of humans to the test.
Spinney's important book carries a warning: no less than four pandemics are predicted for this century. At least one will take the form of flu. Annual vaccines currently offer the best protection. We are fortunate in this country to have a health care system that serves everyone. The enduring message of "Pale Rider" is to underline just how crucial that remarkable service is to our future.
Staff Picks from HPL Newsletter #2
The Year of Magical Thinking by Joan Didion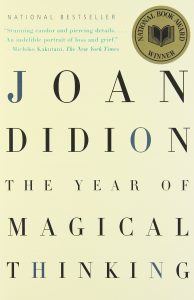 Joan Didion is a diminutive person, but a towering intellect, and a writer whose work has an incredibly powerful impact. Didion is an astute observer – of people, of society, and of her own inner state – and a careful describer of what she observes. In December 2003, her husband of forty years, writer John Gregory Dunne, died suddenly of heart failure. To try and cope with this overwhelming loss, Didion wrote with exquisite clarity about her first year without John, while also coping with the serious illness of their daughter, Quintana. The Year of Magical Thinking is a unique portrait of the process of grief, by a woman whose intelligence is as incisive as a scalpel, and as brilliant as a searchlight. Available in regular and large print at the library.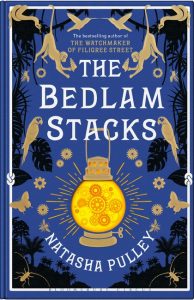 The Bedlam Stacks by Natasha Pulley
If you enjoy historical fiction peppered with a bit of whimsy, check out The Bedlam Stacks by British writer Natasha Pulley. The story features a man named Merrick who had sustained a crippling injury while working for the East India Company. Tired of being an invalid, he answers the call to find and transport seedling Cinchona trees from Peru to India for the quinine that can treat the epidemic of malaria there. The trouble is that the Peruvians have a monopoly on quinine and won't let it go without a fight. In his travels, he meets a young priest named Raphael, who – somehow – seems to have known Merrick's grandfather who lived in Peru decades earlier. There are many mysteries and suspenseful moments, all brushed with just a touch of magic.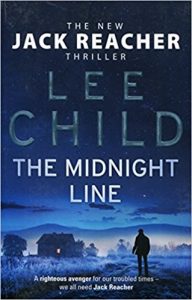 The Midnight Line by Lee Child
Jack Reacher is back to right another wrong in Lee Child's latest in the series, The Midnight Line. This time out, Reacher finds a West Point class ring in a small size – a woman's ring – in a pawnshop, and he goes in search of the soldier who had been desperate enough to part with it. His search takes him into the heart of the opioid crisis in the USA, and the struggle that injured veterans have to live with their pain. This isn't just a Reacher novel; it's a social commentary that throws light on a dark situation. Available in regular and large print and audiobook format at the library.
Our Favourite Books of 2017 
The year is nearing its end, and it has been a banner year for great books. Here are some recommendations – in case you missed them!
Non-fiction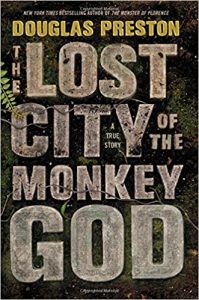 "The Lost City of the Monkey God" by Douglas Preston is a true-life tale of discovery in the South American jungle. New technology allowed explorers to "see" under the dense canopy of trees to find a mythical lost settlement. It was a major trek to get deeply into the jungle, but what they found took their breath away. However, the trek in was only the beginning of the difficulties they had to surmount. Dealing with the politics of the region and the slanderous attacks between archaeologists was tough enough. The deadly disease that many of the expedition contracted in the jungle, including the author makes for a riveting story. Place a hold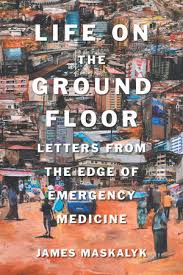 "Life on the Ground Floor" by Toronto emergency room doctor James Maskalyk, is a lyrically written memoir by a gifted writer. Maskalyk works for Doctors without Borders when he isn't at St. Michael's Hospital in Toronto. From Toronto to Addis Ababa, Cambodia to Bolivia, he witnesses mourning and laughter, tragedies and hopes, the frailty of life and the resilience of the human spirit. And it's here too that he is swept into the story, confronting his fears and doubts and questioning what it is to be a doctor. Place a hold
Fiction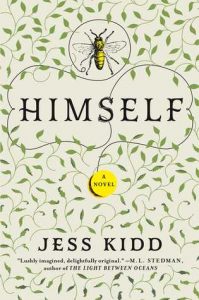 "Himself" by Irish writer Jess Kidd, is a book that is simultaneously whimsical and chilling. When a young man named Mahony returns to Mulderrig, a speck of a place on Ireland's west coast, he brings only a photograph of his long-lost mother and a determination to do battle with the village's lies. His arrival causes cheeks to flush and arms to fold in disapproval. No one in the village – living or dead – will tell what happened to the teenage mother who abandoned him as a baby, despite Mahony's certainty that more than one of them has answers. Between Mulderrig's sly priest, its pitiless nurse and the caustic elderly actress throwing herself into her final village play, this darkly comic debut novel creates an unforgettable world of mystery, bloody violence and buried secrets.  Place a hold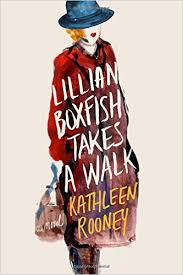 "Lillian Boxfish Takes a Walk" by Katherine Rooney, is a lovely look back at a remarkable life. It's the last day of 1984, and 85-year-old Lillian Boxfish is about to take a walk. As she traverses, a city anxious after an attack by a still-at-large subway vigilante, she encounters bartenders, chauffeurs, security guards, bohemians, criminals, children, parents, and parents-to-be—in surprising moments of generosity and grace. While she strolls, Lillian recalls a long and eventful life that included a brief reign as the highest-paid advertising woman in America—a career cut short by marriage, motherhood, divorce, and a breakdown. This is an inspiring story that perhaps makes us look at the arc of our own lives as philosophically as the wondrous Lillian does.  Place a hold
For Teens
Book Review by Christine
Moxie by Jennifer Mathieu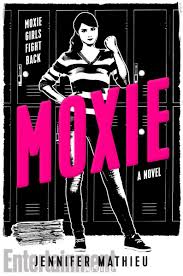 Moxie girls fight back! I wish so badly that this book was written when I was in high school. It has a fantastic message for every single girl/woman who has ever felt ripped off because they are female. Sickened by the double standard her high school has for the boys on the football team vs the school's female population Vivvy decides enough is enough. Inspired by her mom's zine collection from the 1990's Vivvy takes on the double standard and fights for what she believes in and finds out she is not alone! The sheer guts that Vivvy shows are admirable. And I applaud Jennifer Mathieu, in keeping Seth awesome.  "Not all guys are dicks….but for those who are…Moxie will get you!"  Place a hold
Radio Book club Spot #295 All the Gallant Men
This is Norma Graham from the Hanover Public Library with this week's Radio Book club on Bluewater Radio.
Just over 75 years ago, on Dec. 7, 1941, Seaman First Class Donald Stratton was consumed by an inferno. A million pounds of explosives had detonated beneath his battle station aboard the USS Arizona, barely fifteen minutes into Japan's surprise attack on American forces at Pearl Harbor. Near death and burned across two thirds of his body, Don, a nineteen-year-old Nebraskan who had been steeled by the Great Depression and Dust Bowl, summoned the will to haul himself hand over hand across a rope tethered to a neighboring vessel. Forty-five feet below, the harbor's flaming, oil-slick water boiled with enemy bullets; all around him the world tore itself apart.
Recently, at age 94, Don Stratton has published his memoir of that day and the difficult days that followed. It is the only memoir ever written by a survivor of the USS Arizona.
Don and four other sailors made it safely across the same line that morning, a small miracle on a day that claimed the lives of 1,177 of their Arizona shipmates. Sent to military hospitals for a year, Don refused doctors' advice to amputate his limbs and battled to relearn how to walk. The U.S. Navy gave him a medical discharge, believing he would never again be fit for service, but Don had unfinished business. In June 1944, he sailed back into the teeth of the Pacific War on a destroyer, thus earning the distinction of having been present for the opening shots and the final major battle of America's Second World War.
Don Stratton's story of Pearl Harbor is terrifying, inspirational, and heroic, and it will move you to tears. All the Gallant Men is a book for the ages, one of the most remarkable—and remarkably inspiring—memoirs of any kind to appear in recent years.
Good reading, everyone. We'll see you at the library.
Radio Book Spot #292 The family plot
This is Norma Graham from the Hanover Public Library with this week's Radio Bookclub on Bluewater Radio.
If you're in the mood for a darkly funny, scary ghost story, I've just the book for you! Cherie Priest's "The Family Plot" is a haunted house story with enough twists and turns to keep you reading long past bedtime.
Chuck Dutton built Music City Salvage with patience and expertise, stripping historic properties and reselling their bones. Inventory is running low, so he's thrilled when elderly Augusta Withrow appears in his office offering salvage rights to her entire property. This could be a gold mine, so he assigns his daughter Dahlia to personally oversee the project.
The crew finds a handful of surprises right away. Firstly, the place is in unexpectedly good shape. Why does Augusta want it destroyed? And then there's the cemetery, about thirty fallen and overgrown graves dating to the early 1900s, Augusta insists that the cemetery is just a fake, a Halloween prank, so the city gives the go-ahead, the bulldozer revs up, and it turns up human remains. Augusta says she doesn't know whose body it is or how many others might be present and refuses to answer any more questions. Then she stops answering the phone.
But Dahlia's concerns about the corpse and Augusta's disappearance are overshadowed when she begins to realize that she and her crew are not alone, and they're not welcome at the Withrow estate. They have no idea how much danger they're in, but they're starting to get an idea. Something at the Withrow mansion is angry and lost. And it seems to be seeking permanent company.
The Family Plot is a terrific haunted house mystery perfect for those who don't like to wade through buckets of blood and gore. It has a creepy narrative, a likable main character, and loads of mysterious questions to be answered.
Good reading, everyone. We'll see you at the library.