The National Day for Truth and Reconciliation also celebrated as Orange Shirt Day, will be observed September 30th. This day calls on all Canadians to remember the history of residential schools, through the experience of Phyllis (Jack) Webstad, and the intergenerational impacts of its legacy on First Nations and Indigenous peoples.
Activities Honouring the Legacy of Residential School:
In our library, we intend to recognise the day in various ways, to raise local awareness of the Indigenous issues around Residential School and the long lasting damage it caused in their families and communities. One action we can take is to educate our community, to further the cause of reconciliation and honour those lost children by sharing the stories of residential school survivors, their families, and communities.
At the library, we will recognize this day by inviting our patrons to: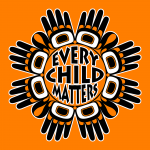 Read and promote the books we have on Residential School, Indigenous matters and books by Indigenous authors. We have created suggesting reading lists for adults Indigenous Matters reading list and for kids Talking About Residential Schools for Kids reading list
Watch visual story books on our large screen TV, telling the stories of the residential school experience like The Orange Shirt Story
Encourage people to read and learn about the Residential School system and the pain and lasting damage that it caused to survivors, their families and all Indigenous people
Resources to read and learn about residential schools
Resources to read and learn about Truth and Reconciliation
A national Residential School Crisis Line has been set up to provide support for former students and those affected. Access emotional and crisis referral services by calling the 24-hour national crisis line: 1-866-925-4419. Indigenous peoples across Canada can also go to The Hope for Wellness Help Line 24 hours a day, 7 days a week for counselling and crisis intervention.
Call the toll-free Help Line at 1-855-242-3310 or connect to the online chat at hopeforwellness.ca.
Territory Acknowledgement
We wish to acknowledge and honour the land upon which this library stands as the historic and Traditional Territory of the Anishinabek Nation. We recognize and thank The People of the Three Fires, known as Ojibway, Odawa, and Pottawatomie Nations. And further give thanks to the Chippewas of Saugeen, and the Chippewas of Nawash, known collectively as the Saugeen Ojibway Nation.